Research article

Open Access
Changes in concentrations of haemostatic and inflammatory biomarkers in synovial fluid after intra-articular injection of lipopolysaccharide in horses
BMC Veterinary Research
BMC series – open, inclusive and trusted
2017
13:182
Received: 19 February 2016
Accepted: 1 June 2017
Published: 19 June 2017
Abstract
Background
Septic arthritis is a common and potentially devastating disease characterized by severe intra-articular (IA) inflammation and fibrin deposition. Research into equine joint pathologies has focused on inflammation, but recent research in humans suggests that both haemostatic and inflammatory pathways are activated in the joint compartment in arthritic conditions. The aim of this study was to characterize the IA haemostatic and inflammatory responses in horses with experimental lipopolysaccharide (LPS)-induced joint inflammation. Inflammation was induced by IA injection of LPS into one antebrachiocarpal joint of six horses. Horses were evaluated clinically with subjective grading of lameness, and blood and synovial fluid (SF) samples were collected at post injection hours (PIH) -120, −96, −24, 0, 2, 4, 8, 16, 24, 36, 48, 72 and 144. Total protein (TP), white blood cell counts (WBC), serum amyloid A (SAA), haptoglobin, iron, fibrinogen, thrombin-antithrombin (TAT) and d-dimer concentrations were assessed in blood and SF.
Results
Intra-articular injection of LPS caused local and systemic signs of inflammation including increased rectal temperature, lameness and increased joint circumference and skin temperature. Most of the biomarkers (TP, WBC, haptoglobin, fibrinogen and TAT) measured in SF increased quickly after LPS injection (at PIH 2–4), whereas SAA and d-dimer levels increased more slowly (at PIH 16 and 144, respectively). SF iron concentrations did not change statistically significantly. Blood WBC, SAA, haptoglobin and fibrinogen increased and iron decreased significantly in response to the IA LPS injection, while TAT and d-dimer concentrations did not change. Repeated pre-injection arthrocenteses caused significant changes in SF concentrations of TP, WBC and haptoglobin.
Conclusion
Similar to inflammatory joint disease in humans, joint inflammation in horses was accompanied by an IA haemostatic response with changes in fibrinogen, TAT and d-dimer concentrations. Inflammatory and haemostatic responses were induced simultaneously and may likely interact. Further studies of interactions between the two responses are needed for a better understanding of pathogenesis of joint disease in horses. Knowledge of effects of repeated arthrocenteses on levels of SF biomarkers may be of value when markers are used for diagnostic purposes.
Keywords
Equine
Acute arthritis
Haemostasis
Inflammation
Thrombin-antithrombin
d-dimer
Fibrinogen
Haptoglobin
Iron
Serum amyloid A
Background
Septic arthritis is a common and potentially devastating disease affecting horses. The chance of full athletic recovery has been reported to range from 81 to as low as 25% [1–4], even where aggressive treatment regimens are used. To better understand prognostic factors and investigate novel approaches to diagnosis and effective management of inflammatory joint conditions in horses, the pathogenesis of intra-articular (IA) disease needs to be further elucidated.
Research into the pathogenesis of arthritis in horses has focused on inflammation in IA tissues, diagnostic assessment of inflammatory markers such as white blood cell counts (WBC), total protein (TP), serum amyloid A (SAA), pro-inflammatory cytokines, and eicosanoids in synovial fluid (SF), and on measures to control inflammation [5–9]. Less attention has been given to the causes and effects of fibrin in the inflamed joint; and the possible interaction between haemostasis and inflammation, which is well-described in human joint disease [10, 11], has not been investigated in horses. Increased concentrations of thrombin-antithrombin (TAT) complexes have been demonstrated in SF from humans with rheumatoid arthritis (RA) [11], which shows that thrombin activation and coagulation takes place in the inflamed joint compartment. Inflamed human SF has been shown to contain increased levels of haemostatic proteins such as thrombin [12] and antithrombin [13], both of which have been shown to attract leukocytes to the joint and to enhance IA inflammation [11, 12, 14]. Also fibrinogen may play a role in the pathogenesis of IA inflammation [15, 16]. In non-inflamed SF from humans fibrinogen was absent or found in very low levels [13, 17], and in inflammatory joint conditions, such as RA, osteoarthritis (OA) and antigen-induced arthritis, increased SF fibrinogen concentration has been demonstrated [17–19]. Fibrinogen is a key protein in haemostasis, interacting with platelets to form a fibrin-platelet clot to control haemorrhage or exudation from the circulation. Fibrin/fibrinogen has also been shown to induce inflammatory reactions in human and equine synoviocytes [20, 21], and fibrinogen may thus contribute to both haemostasis and inflammation in the joint compartment. Fibrinogen is also an acute phase reactant, and similar to other acute phase reactants, such as SAA, haptoglobin and iron, plasma concentrations of fibrinogen will change in response to inflammatory and infectious conditions [22].
In human RA, which is characterised by severe IA inflammation, fibrin deposition takes place inside the joint [19, 23]. This has led to the suggestion that in arthritic conditions there is a dysbalance between fibrinogenesis and fibrinolysis [24], and that an overall state of hypercoagulability is at play [24]. It has been suggested that fibrinolysis is essential for complete resolution of inflammatory joint diseases [11, 19]. For assessment of IA fibrinolysis, d-dimer, a break-down product released during fibrinolysis of cross-linked fibrin, may prove useful. D-dimer is present in equine SF, and higher concentrations were detected in SF of foals with septic arthritis and in SF of horses with osteochondritis dissecans (OCD) than in SF from healthy controls [25, 26].
The aim of the study was to describe the IA haemostatic response in an equine experimental model of inflammatory arthritis. Several factors involved in haemostasis (fibrinogen, TAT, d-dimer) and inflammatory biomarkers (WBC, TP, SAA, haptoglobin, iron) were assessed sequentially after IA injection of lipopolysaccharide (LPS). It was hypothesized that IA haemostasis would be active concomitantly with the acute inflammation.
Results
Two different comparisons were made to describe changes in clinical parameters and biomarker concentrations: post-injection parameters (PIH 2–144) were compared to PIH −120 to assess LPS-induced changes in biomarker concentrations; and pre-injection parameters (PIH -96; −24; 0) were compared to PIH −120 to assess effects of repeated arthrocenteses on biomarker concentrations. In the following, results are summarized in Tables
2
(clinical parameters), 3 (biomarkers in blood), and 4 (biomarkers in SF) and shown in Fig.
1
(clinical parameters), 2 (inflammatory biomarkers in blood), 3 (haemostatic biomarkers in blood), 4 (inflammatory biomarkers in SF), and 5 (haemostatic biomarkers in SF).
Table 2
Clinical parameters (estimated means and ranges) before and after intra-articular injection of 3 μg E. coli O55:B5 lipopolysaccharide
Pain score (Fig. 1b)

Heart rate (Fig. 1c)

Respiratory rate (Fig. 1d)

Rectal temperature (Fig. 1e)

Carpus circumference (Fig. 1f)

Carpus skin temperature (Fig. 1g)

Beats/min

Breaths/min

°C

Centimetres

°C

Hours relative to LPS injection

Estimated mean

Range

Estimated mean

Range

Estimated mean

Range

Estimated mean

Range

Estimated mean

Range

Estimated mean

Range

−120

0.02

0–2

38.4

32–48

12.8

8–20

37.7

37.2–38.1

33.9

30.3–36.8

26.6

23.84–29.68

−96

0.02

0–1.5

38.0

32–40

14.8

12–20

37.5

37.2–38.0

33.7

30.6–36.5

28.5

24.62–32.70

−24

0.01

0–3

39.3

36–48

12.2

8–16

37.6

37.3–38.2

33.8

32.9–36.5

28.8

22.84–31.60

0

0.04

0–3

37.6

36–40

13.9

10–28

37.6

37.2–38.0

33.8

30.4–36.4

29.1

26.34–31.60

2

5.50**

1–13

46.1

40–54

21.3

12–56

37.6

36.9–38.4

34.1

30.6–36.7

31.9*

24.80–30.92

4

10.80***

7–14

47.9*

40–52

32.8*

14–68

37.9

37.0–38.5

34.4*

30.6–37.5

32.1*

25.36–33.66

8

6.82**

3–11

46.5

40–56

17.9

12–28

38.5**

38.1–39.1

34.4

30.4–37.5

32.2**

29.68–34.28

16

3.60*

1–7

43.0

32–52

16.0

12–28

38.3*

38.0–38.7

34.9***

31.2–38.2

32.7***

26.50–35.30

24

0.88

0–8

38.4

28–44

12.2

9–20

37.6

37.2–37.9

34.9***

31.3–38.6

33.5***

32.30–34.68

36

0.03

0–1.5

36.6

32–40

10.5

8–12

37.6

37.1–37.9

35.0***

31.0–38.5

32.3**

29.64–33.88

48

0

0–1

36.2

28–40

11.9

9–20

37.7

37.3–38.1

34.9***

31.0–38.5

32.6**

30.42–34.02

72

0

0–1

35.2

32–40

11.2

8–16

37.5

36.9–38.0

34.9***

31.4–38.0

32.1**

30.92–33.96

144

0

0–1

36.6

32–40

11.8

9–36

37.4

37.1–37.8

34.6***

30.8–38.0

30.2

28.64–32.08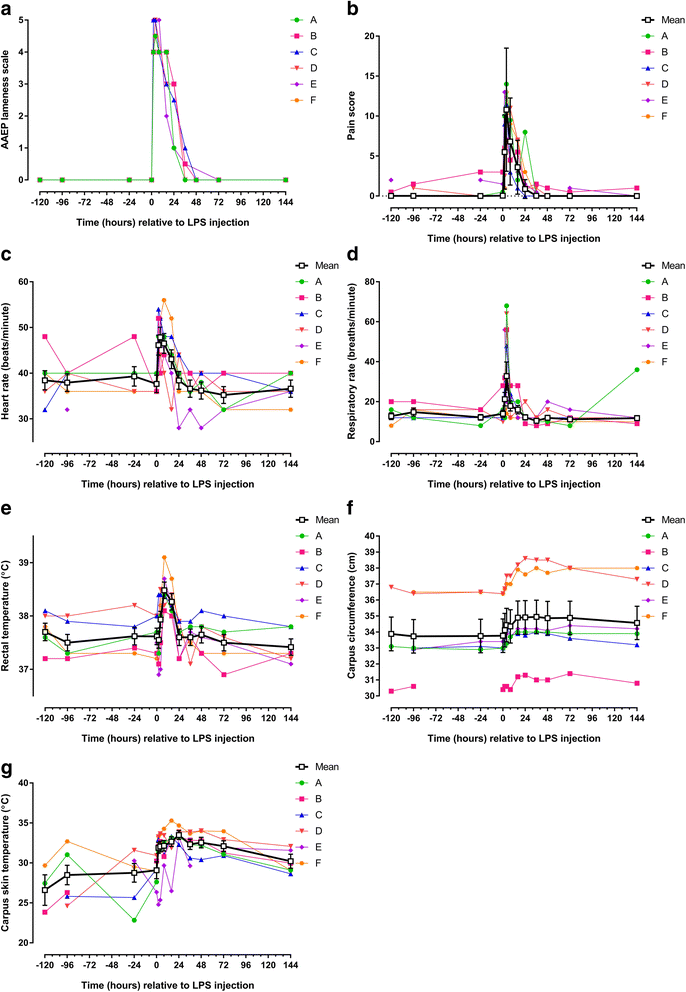 Discussion
The aim of the study was to characterize the IA haemostatic responses in experimentally-induced acute arthritis in horses and to relate it to IA inflammatory responses. Haemostatic and inflammatory responses in SF were activated quickly and simultaneously after IA LPS injection, which supports our hypothesis and their importance in equine inflammatory arthritis. The clinical signs and haematological and biochemical changes in blood and SF observed after IA injection of LPS were similar to those previously reported [30, 31]. While the horses developed pronounced systemic inflammation, concentrations of the haemostatic markers TAT and d-dimer did not change in blood after the IA injection of LPS, suggesting that spillage of inflammatory molecules such as cytokines occurs from the joint to the systemic circulation, whereas haemostatic responses remain confined to the joint compartment.
In equine joint research, focus has mainly been on inflammation and its adverse effects on joint tissues [6, 7]. In contrast, arthritis research in humans has for several years emphasized the importance of haemostasis in joint pathologies [10–13]. Haemostatic proteins such as TAT and fibrinogen have been detected in human SF, where they have been reported to induce or modulate inflammatory responses [14, 17]. Due to the low number of horses, no such assessment of interaction or of causal relationships between inflammatory and haemostatic biomarkers was made in this study.
Haemostatic biomarkers
The increased concentration of fibrinogen in plasma observed after IA LPS injection corresponds to results from previous studies involving experimentally induced inflammation (arthritis, endometritis) in horses [36, 37], and it is a result of the acute phase response with increased hepatic synthesis of fibrinogen. The concentration of fibrinogen in SF started to increase after PIH 2 and reached an average maximum concentration of 2.1 g/L at PIH 8. Synovial fluid fibrinogen concentrations detected in the present study are in the same range as concentrations reported from human arthritis, where low levels of fibrinogen were found in healthy SF and concentrations up to 2 g/L were found in SF from patients with inflammatory joint diseases such as RA, gout and septic arthritis [19]. Accumulation of fibrinogen and fibrin in the joint compartment takes place in equine septic arthritis [38, 39] and may have deleterious effects on the tissues. Fibrin deposits are involved in the formation of pannus [40], a granulation tissue that traps bacteria and stimulates the release of cytokines, growth factors and other inflammatory biomolecules, thus causing cartilage destruction and bone erosion [41, 42]. Pannus formation in equine infected synovial structures has been related to reduced prognosis and poor athletic outcome after septic arthritis [38, 39]. The haemostatic functions of fibrinogen are well-known [43], but fibrinogen has also been shown to possess proinflammatory functions [16], as increased expression of inflammatory biomolecules were detected in cultured synoviocytes after fibrinogen stimulation [20, 21]. The balance between fibrin formation and dissolution is thought to be important for resolution of IA inflammatory disease [23, 24]. In the present study SF fibrinogen concentrations started to decrease after PIH 8. This decrease could be the result of fibrinolysis [25], and it could also be related to formation of fibrin that adhere to the synovial membrane and thus disappear from SF. Adherence of fibrin to the synovial membrane has been reported in mice 36 h after experimental induction of antigen-induced arthritis [18]. Adherence of fibrin was also observed arthroscopically 2 days after inoculation in an experimental Staphylococcus aureus-induced joint infection in horses [44]. Arthroscopic assessment or synovial membrane histology of horses with LPS-induced arthritis could provide more information on formation of IA fibrin deposits.
Our results showed that soluble fibrinogen can be measured in equine SF with the QuickVet® Equine Fibrinogen™ Test, but further studies are needed to fully explore the potential of fibrinogen as a biomarker of IA haemostatic pathways in equine inflammatory joint disease.
Intra-articular LPS injection induced a very fast and significant increase in SF TAT concentrations, but did not result in changes in plasma TAT concentrations. These results correspond to TAT concentrations demonstrated in plasma of healthy horses (2.6 ± 2 μg/L) [45] and in SF from humans with RA (1913.4 ± 1024 μg/L) [46]. A proteomic analysis of SF from horses with OA revealed a 2.2 fold increase in antithrombin level compared to SF from healthy animals [47]. In human inflammatory joint conditions, SF levels of TAT are correlated with SF tissue factor (TF) activity [11], which can induce thrombin generation [13]. Thrombin is rapidly inactivated in SF by antithrombin [13], and TAT can be considered an indicator of thrombin generation [48, 49]. In humans, TAT concentrations seemed to be related to degree of IA inflammation, as SF TAT concentrations were higher in RA than in OA (4430 ± 3580 μg/L versus 210 ± 260 μg/L) [14]. The results of the current study show that IA haemostasis was activated within 2 h after the inflammatory insult. The corresponding, rapid increase in SF fibrinogen, TP and WBC indicate that haemostasis was activated in synchronicity with inflammation in the joint compartment after IA LPS injection.
This is the first study to evaluate d-dimer concentration changes over time in acute equine joint inflammation. Plasma d-dimer concentration did not change in response to IA LPS injection, but in SF significantly increased d-dimer concentrations were demonstrated at PIH 144. Previous studies in horses have demonstrated increased d-dimer concentrations in SF from clinical cases of chronic joint disease with mild inflammation such as OA and OCD [26], as well as very high d-dimer concentrations in SF from foals with septic arthritis [25]. The increase in d-dimer concentration in inflammatory arthritis supports the hypothesis that inflammatory reactions in joint induce IA fibrinolysis [25]. D-dimer is thought to be produced locally in the joint [25], as also shown by SF d-dimer concentrations being much higher than those found in plasma in the present study. Factors involved in d-dimer generation (plasminogen, urokinase plasminogen activator and plasminogen activator inhibitor) have been demonstrated in SF [50, 51]. Since the joint inflammation induced in our model was of short duration and self-limiting, the present study cannot shed light on how fibrinolysis is activated in more complex joint diseases, but it seems that fibrinolysis occurs quite late in the course of joint inflammation. Conversely, the uniformly low level of d-dimer detected in all horses in the first 24 PIH could be indicative of an early decrease in fibrinolytic activity in the pathogenesis of joint diseases. This potentially very important balance between fibrinogenesis and fibrinolysis warrants further research.
Inflammatory biomarkers
Measuring TP and WBC in SF is routine for assessment of joint inflammation [9]. Levels of WBC and TP in SF reached those reported to indicate presence of septic arthritis [5, 9], which confirms that the equine IA LPS model mimics this condition. The TP concentration in SF increased rapidly after IA LPS injection and reached concentrations close to those found in plasma. The majority of the SF protein content thus appeared to be derived from the systemic circulation (albumin).
Serum as well as SF SAA concentrations increased in response to IA injection of LPS. Increased SAA concentrations in SF as a result of IA inflammation have been demonstrated repeatedly in horses and other species [30, 31, 52–54]. A recent study suggested that septic arthritis results in particularly high SF SAA concentrations (> 100 mg/L) in horses [55], corresponding to levels found in our model of severe inflammatory arthritis. It has been shown that SAA is synthesized by IA tissues [56–58], and that SAA synthesis is elicited when cultured chondrocytes and fibroblast-like synoviocytes from horses are exposed to inflammatory molecules (e.g. LPS or proinflammatory cytokines) [59] or to molecules involved in haemostasis (thrombin, fibrinogen) [21].
Haptoglobin, a moderate acute phase protein in the horse [36], showed significantly increased serum concentrations from PIH 24 to the end of study. Previous studies have shown a serum haptoglobin response in horses with experimental arthritis [36], acute abdominal pain [60] and transportation stress [61]. Very little is known about the haptoglobin response in inflammatory joint disease in horses and other species [47, 51, 62], but a recent study demonstrated increased concentrations of haptoglobin in SF obtained from horses 15 days after experimental induction of arthritis by IA injection of amphotericin B [63]. In response to IA LPS injection, haptoglobin concentrations in SF peaked earlier than serum concentrations did (PIH 2–16). This very early peak makes it unlikely that IA de novo synthesis of haptoglobin had time to occur, and its presence in SF may be a result of blood contamination of SF. Haptoglobin may have protective effects in the joint, as it binds iron, thereby protecting against tissue degradation from oxidative damage [64, 65]. Haptoglobin has also been found to protect SF hyaluronic acid from free radical degradation [66]. There are no studies reporting the use of haptoglobin for diagnostic purposes in joint disease yet.
A decrease in iron concentration in serum was observed at PIH 16 and 24. This finding was expected, as it has been shown that LPS induce hepatic up-regulation of hepcidin, an iron metabolism regulator, which reduces iron availability in the blood stream [67] with proposed anti-microbial effects [68]. Effects of joint inflammation on SF iron concentration are not clear. Intra-articular LPS injection did not result in significant changes in SF iron concentrations in our horses, and previous studies in humans have shown opposing results, with one study showing higher SF iron concentrations in severe inflammation (RA) than in milder inflammation (OA) [69], while another study showed higher iron concentrations in SF from OA patients than in SF from RA patients and healthy individuals [70]. Intra-articular iron has been thought to be related to joint degradation processes through formation of free radicals [70, 71].
Repeated arthrocenteses
The study design allowed us to assess the effect of repeated arthrocenteses on concentrations of SF biomarkers. Previous studies in calves and horses have shown that the trauma caused by insertion of a needle into the joint induces an IA inflammatory reaction with resultant significant changes in biomarker concentrations [32, 72, 73]. White blood cells counts, and TP and haptoglobin concentrations were increased in SF 24 h after the previous arthrocentesis, but 3 days after the previous arthrocentesis concentrations were back to pre-arthrocentesis levels. These findings are similar to those of Brama et al. [72], where the activity of matrix metalloproteinases in equine SF was increased 12 h after the first arthrocentesis and normalized after 72 h. Our group and others has previously shown that TP, but not concentrations of SAA or cartilage-derived retinoic acid-sensitive protein, are affected by previous arthrocentesis [30, 74, 75]. Synovial fluid WBC is increased 24–48 h after arthrocentesis [75, 76]. The IA response to arthrocenteses are thought to be caused by local inflammatory reactions in the synovial membrane [72], or by a minor haemorrhage with influx of cells and proteins that accumulates in SF [73, 77]. The latter seemed to occur in the present study as indicated by red or orange discolouration of 7 of the SF samples obtained in the pre-injection period. It is not clear if and how arthrocentesis-induced IA inflammation, haemorrhage or haemolysis may have affected measurements of the biomarkers in the present study. For some of the assays employed (e.g. TAT and d-dimer) the manufacturer specifically states that haemolysis does not affect measurement results. Bleeding, however, could potentially affect measured concentrations of biomarkers, either by proteins being delivered to SF by the haemorrhage (resulting in increased concentrations of the protein) or by blood plasma exerting a dilution effect (resulting in decreased protein concentrations).
Increased knowledge about effects of repeated arthrocenteses on concentration of SF biomarkers may be valuable for clinical diagnostic purposes.
Conclusion
This study documented the concomitant induction of haemostatic and inflammatory responses in the joint compartment during experimental inflammatory arthritis in horses. The IA haemostatic responses occurred independently of the systemic haemostatic response and coincided with peak joint inflammation. The IA haemostatic response is elicited immediately after the inflammatory insult as evidenced by early increases in SF fibrinogen and TAT concentrations, while fibrinolysis of cross-linked fibrin with formation of d-dimer seemed to be activated late. These findings provide new insights into the pathogenesis of equine inflammatory arthritis. Future studies of the interaction between joint inflammation and haemostasis may prove important for development of new treatment modalities to improve the prognosis of severe joint inflammation.
Footnotes
1
SF volume to 0.3 ml citrate = 2.7 ml blood x [100% - equine haematocrit of 45%].
2
SF volume to 4 ml spray-coated EDTA tube = 4 ml blood x [100% - equine haematocrit of 45%].
Abbreviations
EDTA:

Ethylenediaminetetraacetic acid
IA:

Intra-articular
LPS:

Lipopolysaccharide
OA:

Osteoarthritis
OCD:

Osteochondritis dissecans
PIH:

Post injection hour
RA:

Rheumatoid arthritis
SAA:

Serum amyloid A
SF:

Synovial fluid
TAT:

Thrombin-antithrombin
TF:

Tissue factor
TP:

Total protein
WBC:

White blood cell count
Declarations
Acknowledgements
The authors gratefully thank laboratory technician Maria Rhod for competent and precise assistance with sample handling, cytological analyses of SF, and assistance with validation of the fibrinogen assay. Laboratory technician Tina Roust is tanked for helping with d-dimer measurements, Louise Bochsen and Clara B. Marschner are acknowledged for performing the TAT analyses. The technical staff at the research facilities made a very important contribution by taking excellent care of the horses.
Funding
This study was supported by the Danish Horse Levy Fond and the Jubilee Fund of the Royal Danish Horse Insurance Company. Eickemeyer Denmark generously provided materials related to the animal experiment. Scandinavian Micro Biodevices Aps are greatly acknowledged for providing materials for SF fibrinogen analyses and for making their laboratory facilities available for fibrinogen measurements.
Availability of data and materials
The datasets used and analysed during the current study are available from the corresponding author on reasonable request.
Authors' contributions
SMA, PHA, AMLV and SJ conceived and designed the study. SSN, SMA and SJ performed the statistical analysis, prepared the figures and interpreted the data. SMA and SJ prepared the manuscript. SJ, ATK, AMLV, PHA, AT and SSN revised the manuscript critically for intellectual content. All authors have read and approved the final manuscript.
Competing interests
The authors declare that they have no competing interests.
Consent for publication
Not applicable.
Ethics approval and consent to participate
The experimental protocol was approved by the ethical committee of the Large Animal Teaching Hospital of University of Copenhagen and by the Danish Animal Experiments Inspectorate (permit 2011/561–1996). All procedures were carried out in agreement with the Danish Animal Testing Act. Enrolled horses were research animals and owner's consent was not applicable.
Publisher's Note
Springer Nature remains neutral with regard to jurisdictional claims in published maps and institutional affiliations.
Open AccessThis article is distributed under the terms of the Creative Commons Attribution 4.0 International License (http://creativecommons.org/licenses/by/4.0/), which permits unrestricted use, distribution, and reproduction in any medium, provided you give appropriate credit to the original author(s) and the source, provide a link to the Creative Commons license, and indicate if changes were made. The Creative Commons Public Domain Dedication waiver (http://creativecommons.org/publicdomain/zero/1.0/) applies to the data made available in this article, unless otherwise stated.
Authors' Affiliations
(1)
Department of Veterinary Clinical Sciences, Section of Large Animal Medicine and Surgery, University of Copenhagen, Tåstrup, Denmark
(2)
Department of Veterinary Clinical Sciences, University of Copenhagen, Frederiksberg C, Denmark
(3)
Department of Veterinary and Animal Sciences, University of Copenhagen, Frederiksberg C, Denmark
(4)
Department of Clinical Sciences, Swedish Agricultural University, Uppsala, Sweden