Research article

Open Access
Infectious keratoconjunctivitis in wild Caprinae: merging field observations and molecular analyses sheds light on factors shaping outbreak dynamics
BMC Veterinary Research
BMC series – open, inclusive and trusted
2017
13:67
Received: 9 July 2016
Accepted: 10 February 2017
Published: 4 March 2017
Abstract
Background
Infectious keratoconjunctivitis (IKC) is an ocular infectious disease caused by Mycoplasma conjunctivae which affects small domestic and wild mountain ruminants. Domestic sheep maintain the pathogen but the detection of healthy carriers in wildlife has raised the question as to whether M. conjunctivae may also persist in the wild. Furthermore, the factors shaping the dynamics of IKC outbreaks in wildlife have remained largely unknown. The aims of this study were (1) to verify the etiological role of M. conjunctivae in IKC outbreaks recorded between 2002 and 2010 at four study sites in different regions of France (Pyrenees and Alps, samples from 159 Alpine ibex Capra ibex, Alpine chamois Rupicapra rupicapra and Pyrenean chamois Rupicapra pyrenaica); (2) to establish whether there existed any epidemiological links between the different regions through a cluster analysis of the detected strains (from 80 out of the 159 animals tested); (3) to explore selected pathogen, host and environmental factors potentially influencing the dynamics of IKC in wildlife, by joining results obtained by molecular analyses and by field observations (16,609 animal observations). All of the samples were tested for M. conjunctivae by qPCR, and cluster analysis was based on a highly variable part of the lppS gene.
Results
We documented infections with M. conjunctivae in epidemic and endemic situations, both in symptomatic and asymptomatic animals. The identified M. conjunctivae strains were site-specific and persisted in the local wild population for at least 6 years. In epidemic situations, peaks of cases and disease resurgence were associated with the emergence of new similar strains in a given area. Social interactions, seasonal movements and the landscape structure such as natural and anthropogenic barriers influenced the spatio-temporal spread of IKC. Adults were more affected than young animals and host susceptibility differed depending on the involved strain.
Conclusion
Our study indicates that IKC is a multifactorial disease and that M. conjunctivae can persist in wildlife populations. The disease course in individual animals and populations is influenced by both host and mycoplasma characteristics, and the disease spread within and among populations is shaped by host behavior and landscape structure.
Keywords
Molecular epidemiology
Mycoplasma conjunctivae
Persistence
Resurgence
Ocular disease
Disease spread
Chamois
Ibex
Background
Infectious keratoconjunctivitis (IKC) in Caprinae is a common disease characterized by varying ocular signs ranging from mild conjunctivitis with discrete lachrymation to severe keratitis with cornea perforation, resulting in irreversible blindness, associated behavioral changes and, eventually, death [1–5]. It affects both wild and domestic Caprinae but severe signs are more frequent in wildlife [6]. In wild ruminants, the disease has been known for nearly a century and reported to occur in at least seven European countries (Switzerland, Italy, France, Austria, Slovenia [7], Spain [8], Norway [9]), in North America [10, 11] and in Oceania (New Zealand [12], Australia [13]).
IKC has been reported to be the cause of potentially important economic losses for farmers because of treatment costs, weight loss and mortality due to falls or drowning in affected animals [14]. In wildlife, the disease can result in high mortality, reaching up to 30% of the estimated population size [2, 15], which is perceived as problematic due to the local significance of wild ungulates as game or as cultural symbol, for ecotourism and species conservation. In the Alps in particular, this disease has an emblematic character as it frequently occurs, is easily recognized by observers and is perceived to be a cause of suffering in animals, in particular when the cornea is perforated, animals are disoriented and numerous carcasses are found. There is therefore a strong interest among wildlife managers and farmers in collecting more knowledge on IKC dynamics in domestic and wild animal populations.
Mycoplasma conjunctivae has been isolated from domestic and wild animals with IKC signs in various parts of the world, including Europe [16], North America [10, 11], Africa [17], Asia [18] and Oceania [19, 20], and IKC was successfully induced by inoculation of M. conjunctivae under experimental conditions [3, 21]. Most recently, the existence of a strong association between M. conjunctivae infection and IKC signs has also been documented in epidemiological surveys [4, 22] and M. conjunctivae is now recognized as the major etiological agent of IKC in Caprinae species.
Transmission of M. conjunctivae occurs by direct contact [23] and possibly by eye-frequenting insects [24, 25], with subsequent rapid spread within a herd [1]. Interspecific transmission of M. conjunctivae has been documented both experimentally and under field conditions [3, 26]. The disease is endemic in populations of small domestic ruminants, and healthy carriers have been implicated in IKC introduction into sheep herds [27, 28]. Sheep have therefore been proposed as reservoir for M. conjunctivae and as the main source of infection for wild ungulates on summer pastures, while wild ungulates have been considered to be spill-over hosts, i.e., as hosts susceptible to infection but unable to maintain the pathogen on their own [3, 6, 26, 29]. However, the presence of healthy carriers has recently been documented in free-ranging Alpine ibex (Capra ibex) and chamois (Rupicapra spp.) populations, both in the Alps and the Pyrenees [4, 22, 30] raising the question as to whether M. conjunctivae may also persist in wildlife [4, 15]. Furthermore, it has been discussed that IKC may be a multifactorial disease, with host, pathogen and environmental factors playing a role in disease occurrence and severity [4, 31].
In France, the first IKC cases were documented in 1935 and 1942 in the Ecrins National Park and in 1974 in the Vanoise National Park. The first important outbreak was documented in 1977 in the Bauge National Hunting Reserve, and in 1981 in the Pyrenees National Park [32]. Several IKC outbreaks have been described [15, 29, 33] and some authors have proposed that the disease is endemic in wild populations, occasionally turning into epidemics with varying levels of mortality [15, 32]. However, so far M. conjunctivae has not been reported from affected chamois or ibex in that country. Furthermore, it has often been unclear whether an epidemiological link existed among affected subpopulations and by which mechanisms IKC spread occurred. Overall, the role of sheep in IKC re-emergence in wildlife remains controversial, and the potential role of intraspecific social interactions, landscape structure and varying virulence of M. conjunctivae strains in the dynamics of IKC outbreaks in wildlife has been poorly investigated.
The aims of this study were (1) to verify the implication of M. conjunctivae in IKC outbreaks in wild ruminants in France, (2) to establish whether there were epidemiological links between the different outbreaks that occurred in France over a period of 9 years, and (3) to explore selected pathogen, host and environmental factors potentially influencing the dynamics of IKC in wildlife. We hypothesized that M. conjunctivae strain characteristics, intraspecific social interactions and landscape structure may all influence the dynamics of IKC in wild populations. We analyzed documented field observations of IKC events in France between 2002 and 2010 and carried out molecular investigations on animal samples collected in the affected areas during the same time period.
Results
Presence of M. conjunctivae
Animals positive to M. conjunctivae were found in all study areas. At individual level, 72 out of 87 (82.8%) symptomatic chamois and ibex were positive, including 13 ibex from the Vanoise and six chamois from the Ecrins. Furthermore, four out of 37 asymptomatic ibex captured from two adjacent population nuclei in the Vanoise (Modane and Champagny) were positive (two from each subpopulation). These animals were marked 2 years after the IKC epidemic and followed up for several years within the framework of another study [46]; they were never observed with IKC signs. The other eight asymptomatic individuals tested in this study were negative for M. conjunctivae.
From a technical point of view, our data pointed at significant differences in the quality of the results obtained, namely the number of positive/negative vs. non-interpretable results, depending both on the type of samples and on the extraction method. Considering only the results generated with the method of Vilei et al. [
40
], the percentage of interpretable results obtained in the first run was significantly higher with swabs taken on fresh material and kept frozen until analysis (71.6%) than with swabs collected from thawed eyes (50.5%,
P
 = 0.0069) or heads (34.8%,
P
 = 0.0025) (Table
1
, Fig.
5
). Regarding the DNA extraction protocol, the chances of obtaining an interpretable result in the first run and a trustful Ct-value in the qPCR were higher with the method of Bürki et al. [
41
] (100%; 18/18 swabs including six swabs taken on frozen eyes, and 30/30 swabs from fresh tissues not included in this study; G. Gelormini, unpubl. data) than with the method previously established by Vilei et al. [
40
] (51.4%, 108/210 swabs;
P
 = 0.0000).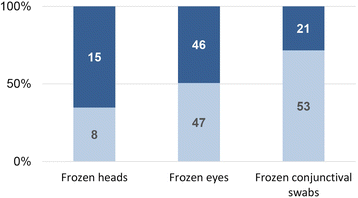 Disease spread and cluster analysis
The epidemic situation strongly differed among study areas, and sequencing revealed separate strain clusters for each study area (Fig.
6
). GenBank accession numbers and metadata of the strain sequences are given in Additional file
3
.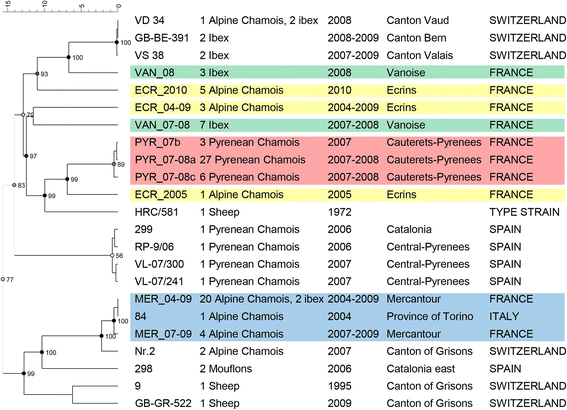 Discussion
Many IKC outbreaks have been observed in France since 1935 [32] but unlike in other European countries an etiological agent had not yet been identified in ibex and chamois. Here, we confirmed the etiological role of M. conjunctivae in IKC outbreaks affecting ibex and chamois populations both in the French Pyrenees and in the French Alps. Furthermore, we documented asymptomatic carriers in free-ranging wild Caprinae in France, corroborating observations in other European countries [4, 22, 30].
A number of ibex and chamois with typical severe IKC signs were tested negative, as previously observed [4, 22, 40]. It may be that secondary microbial agents compete with the mycoplasmas in late disease stages [5, 8, 22] or that part of the observed IKC-like signs are due to another etiology [4]. In addition, false negative results may be due to a reduced sensitivity of the test in highly contaminated samples.
We documented marked differences in the qPCR diagnostic success depending on both sample quality and the DNA extraction method. Based on our results, we recommend collecting eye swabs on the animals immediately rather than freezing heads and eyes before swab collection. Furthermore, we advise to directly extract DNA or at least conserve the samples in Guanidium buffer [41] rather than freezing the swabs and subsequently extracting the DNA [40].
Conclusion
With this study we confirmed the implication of M. conjunctivae in IKC in wild Caprinae in France, showed that the different outbreaks were not linked to each other, and demonstrated the persistence for at least 6 years of site-specific strains within local wild populations. Furthermore, we documented that strain characteristics, social interactions and landscape structure shape the dynamics of IKC outbreaks. Together with previous studies [4, 15, 31], this shows that IKC has a pronounced multifactorial character and that host, pathogen as well as environmental factors all play an important role in disease occurrence, spread and severity. Importantly, IKC presents features inherent in the biology of other mycoplasmas. From a technical point of view, this work demonstrates the usefulness of performing long-term studies, joining field observations and molecular analyses, and harmonizing data collection in different study sites to track factors influencing the dynamic of infectious disease outbreaks in free-ranging wildlife [69]. It also illustrates the necessity to define epidemiological units to document and possibly predict the spread of infectious agents transmitted mainly by direct contact. IKC, which is a visible disease, may well represent an interesting model to study the epidemiology of diseases with similar transmission routes in wildlife populations.
Declarations
Acknowledgements
We thank the numerous people who contributed to field data and sample collection: for the French Pyrenees, the team of the gamekeepers of the Pyrenees National Park in Cauterets; for the French Alps, the Fédération départementale des Chasseurs des Hautes Alpes (Jacques Chevallier, president; Nicolas Jean, director; and the hunting society of the Massif du Queyras), the gamekeepers of the Queyras regional Natural Park, the VNP, the ENP and the National Forest Office (Thierry Anel), the scientific team and the gamekeepers of the MNP; the departemental laboratories of the Savoie and the Hautes Alpes. Data from Italy were provided by Andrea Dematteis (CERIGEFAS, Sampeyre), Omar Giordano and Giogio Ficetto (Comprensorio Alpino CACN2, Val Varaita). We acknowledge Paola Pilo for excellent advices in the laboratory, and Fabien Mavrot for laboratory work introduction and QGIS technical support. Many thanks go to the Office National de la Chasse et de la Faune Sauvage (France) for providing maps of the geographic distribution of wild Caprinae.
Funding
The study was funded by the contributing institutions.
Availability of data and materials
All relevant data supporting the conclusions of this study are presented in the article. Strain accession numbers in GenBank are given in Additional file 3. Raw data could be obtained from the first author upon request.
Authors' contribution
Conception and design of the experiment: DG, EV. The experiments were performed by: GG, JC, DG, EV. The data were analyzed by: GG, MR, JC. Contributed to reagents, materials and analysis tools: DG, JC, JF, EV. The paper was written by: GG, MR. All authors read and approved the final manuscript.
Competing interests
The authors declare that they have no competing interests.
Consent for publication
Not applicable.
Ethics approval
None of the animals concerned by this study was killed for research purposes. All of the samples originated either from free-ranging wildlife which was found dead in the fields or legally shot for hunting purposes, or else from live animals captured within the framework of other wildlife projects. Collection and sampling of dead animals respected France's legislation (hunting law: legal sections L425-6 to L425-13 of the French Environment Code; and animal protection law: legal sections L411-1 to L411-6 of the French Environment Code). Sampling was carried out by public wardens appointed by the French legislation (under oath) or by hunters involved in health surveillance. The animals coming from hunting activity were killed by persons owning the hunting permit and were harvested outside protected areas. No Alpine ibex was killed, as hunting this protected species is strictly prohibited in France. No culling program provided samples for this study. Sampling and transport of the specimens of protected wild species were carried out according to the National Order of 5th of June 2009 established for epidemiological surveys. Capture and sampling of live animals were carried out by national park wardens appointed by the French legislation (under oath). In the Vanoise National Park the capture of Alpine ibex benefited from a specific authorization relative to species submitted to the 1st title of the chapter IV of the French Environment Code: Order Nr. 2008-16 of the Préfet de Savoie.
Open AccessThis article is distributed under the terms of the Creative Commons Attribution 4.0 International License (http://creativecommons.org/licenses/by/4.0/), which permits unrestricted use, distribution, and reproduction in any medium, provided you give appropriate credit to the original author(s) and the source, provide a link to the Creative Commons license, and indicate if changes were made. The Creative Commons Public Domain Dedication waiver (http://creativecommons.org/publicdomain/zero/1.0/) applies to the data made available in this article, unless otherwise stated.
Authors' Affiliations
(1)
Centre for Fish and Wildlife Health (FIWI), Vetsuisse Faculty, University of Bern, Bern, Switzerland
(2)
Institute of Veterinary Bacteriology, Vetsuisse Faculty, University of Bern, Bern, Switzerland
(3)
Laboratoire Vétérinaire des Hautes Alpes, Gap, France
(4)
Parc National des Pyrénées, Tarbes, France