Hepatic progenitor cells in canine and feline medicine: potential for regenerative strategies
BMC Veterinary Research
2014
10:137
Received: 23 August 2013
Accepted: 31 December 2013
Published: 19 June 2014
Abstract
New curative therapies for severe liver disease are urgently needed in both the human and veterinary clinic. It is important to find new treatment modalities which aim to compensate for the loss of parenchymal tissue and to repopulate the liver with healthy hepatocytes. A prime focus in regenerative medicine of the liver is the use of adult liver stem cells, or hepatic progenitor cells (HPCs), for functional recovery of liver disease. This review describes recent developments in HPC research in dog and cat and compares these findings to experimental rodent studies and human pathology. Specifically, the role of HPCs in liver regeneration, key components of the HPC niche, and HPC activation in specific types of canine and feline liver disease will be reviewed. Finally, the potential applications of HPCs in regenerative medicine of the liver are discussed and a potential role is suggested for dogs as first target species for HPC-based trials.
Keywords
Liver
Progenitor cell
Dog
Cat
Regenerative medicine
Introduction
Regenerative medicine is a rapidly developing field in which diseased tissues are restored or regenerated. This interdisciplinary field converges biomedical research, technology and clinical care, and is based on the concept of employing intrinsic repair mechanisms within the tissue itself. A hallmark of regenerative medicine is the clinical use of stem cells, either by manipulation of endogenous progenitor populations in situ, or by transplantation of stem cells (autologous or allogeneic). Recent developments in human stem cell therapy are highly visible and it appears that this phenomenon is now also entering the veterinary clinic. In April 2013, Nature published a report in its news section on the growing use of stem cells in veterinary medicine. Although popularity has increased, the efficacy of many stem cell therapies is often unproven. New FDA regulations in the USA are pending and if stem cells are defined as a drug, application as a new treatment modality requires evidence-based veterinary medicine [1].
Regenerative strategies in the liver seem redundant, as adult hepatocytes are widely known for their large regenerative capacity. However, developments in the field of hepatology make clear that in severe or chronic ongoing liver disease, regeneration by hepatocyte replication is failing or absent [
2
]. In these specific circumstances liver-specific stem cells, or hepatic progenitor cells (HPCs), become activated and attempt to repopulate the liver. HPCs are a reserve compartment of adult stem/progenitor cells that reside within the liver and are found in rodents, humans, dogs and cats [
3
–
7
]. HPC activation in a diseased liver section is described as 'ductular reaction' or 'bile duct proliferation' in a histology report [
8
,
9
]. Diagnostically, it indicates severe liver disease. In addition, the presence of progenitor cell markers in hepatocellular carcinoma (HCC) is an indicator of malignancy in humans as well as dogs [
10
–
12
]. Conversely, HPCs hold potential as a therapeutic target since they are committed liver stem cells, show self-renewal capacity and can differentiate into hepatocytes and cholangiocytes (Figure
1
) [
13
]. Literature on HPCs focuses on mouse, rat, and human. There are few publications on canine HPCs and even fewer on cat or other species and it is clear that the HPC response is often referred to as 'bile duct proliferation' when observed in liver histological sections [
8
,
14
]. In this terminology there is no suggestion of the presence and activation of stem cells, implying that the presence of HPCs in the liver of dogs and cats is not widely recognized and that there is no consensus on terminology in veterinary pathology. An attempt to achieve this consensus in clinical and histological diagnosis of liver disease has been made by the WSAVA Liver Standardization Group.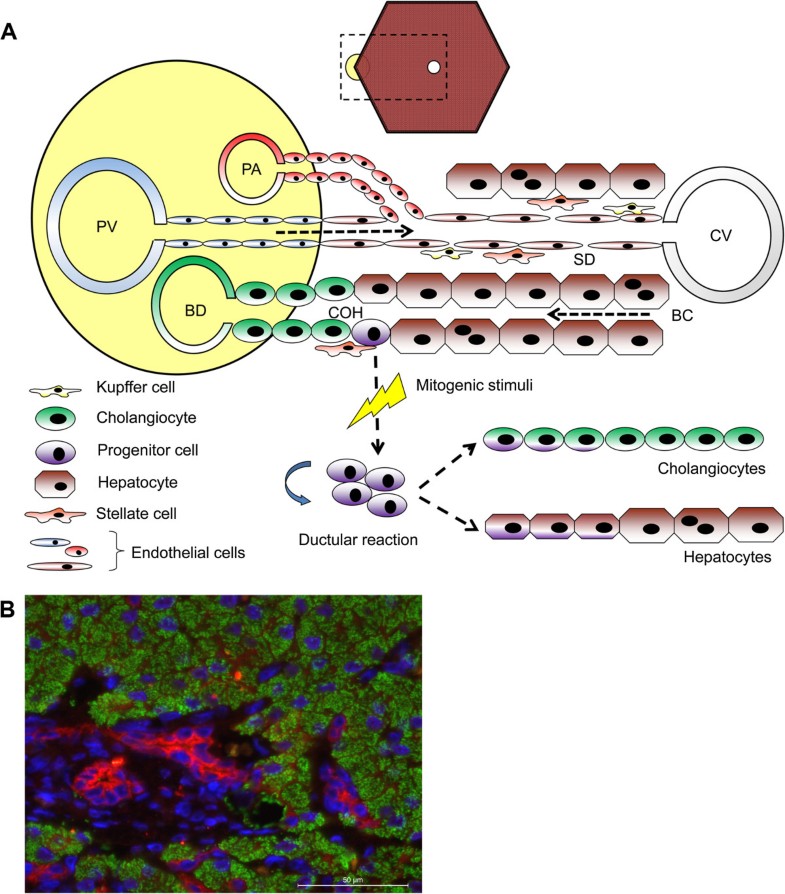 In this review, we will provide an overview of the role of HPCs in liver regeneration and will address the most important cellular and stromal players in HPC biology. Although current knowledge about HPCs stems primarily from experimental rodent and clinical human studies, we will review available literature on HPCs in canine and feline liver regeneration, and support these with recent data from our own research. To conclude, we will discuss the possible use of HPCs for clinical purposes in veterinary regenerative medicine and for future research needs.
Conclusions
There is much promise in the use of HPCs in regenerative therapies for both human and veterinary medicine. Fundamental studies in toxic and genetic rodent models, together with (comparative) histo-pathological studies in humans have determined HPCs to be clinically relevant. In canines, important molecular and cellular reaction patterns in particular liver diseases are reported, and characterize HPCs and their niche. Overall, HPC marker expression in dogs is comparable to that of humans, as is response to injury and the cell types involved in modulating HPC response. This suggests that the therapeutic potential of these cells is similar in dog when compared to man, and opens up the potential for developing new strategies for currently untreatable canine liver diseases (Figure
6
).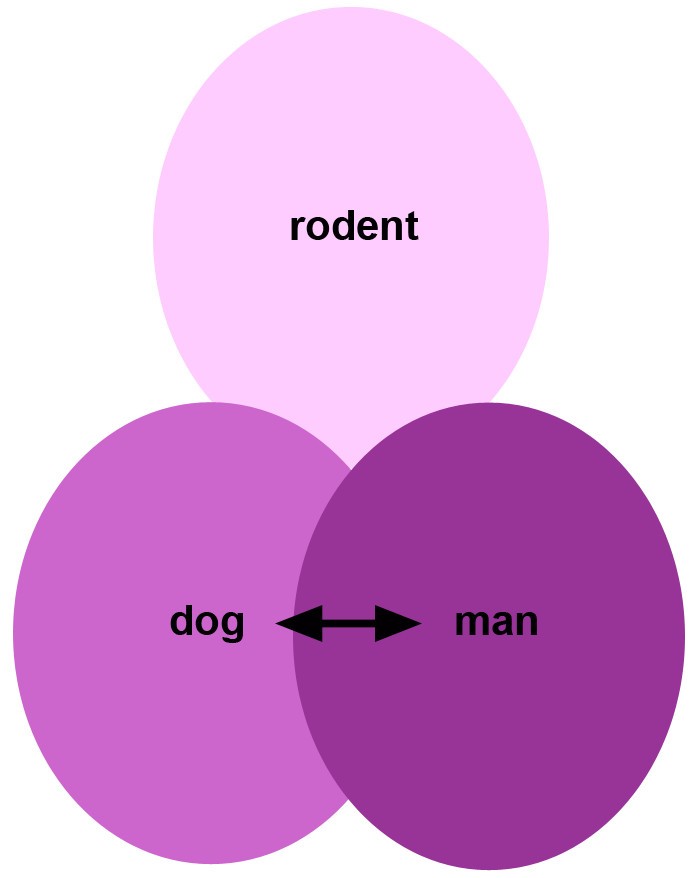 On the other hand, there is still much to be conducted in feline hepatology. As with canine investigations, studies on cat liver disease and pathology would benefit from focusing on the molecular mechanisms of disease and regeneration in comparison to human and canine models, including the presence and characteristics of feline HPCs. In addition, feline lipidosis and cholangitis, diseases that are rare in dogs, may provide important models for human steatohepatitis and biliary disease.
We conclude that humans and dogs share many similarities with respect to liver disease and HPC biology, especially since dogs have spontaneous liver disease that equally requires treatment. With the emergence of regenerative medicine, veterinary and human medicine have the unique opportunity to advance potential therapies and technologies together. In particular, human medicine could greatly benefit from HPC-based trials in dogs.
Unpublished observations
Valtolina C, Muys J, Penning LC, Grinwis GG, Schotanus BA: Characterization of the feline hepatic progenitor cell niche in health and disease, manuscript in preparation.
Van Sprundel RGHM, Van Den Ingh TSGAM, Guscetti F, Kershaw O, Kanemoto H, Van Gils HM, Rothuizen J, Spee B: Classification of primary hepatic tumours in the cat, manuscript in preparation.
Authors' information
Department of Clinical Sciences of Companion Animals, Faculty of Veterinary Medicine, Utrecht University, The Netherlands.
Abbreviations
HPC:

Hepatic progenitor cell
HCC:

Hepatocellular carcinoma
PHx:

Partial hepatectomy
HGF:

Hepatocyte growth factor
PCNA:

Proliferating cell nuclear antigen
DR:

Ductular reaction
K (7):

Keratin (7)
ECM:

Extracellular matrix
HSC:

Hepatic stellate cell
MMP:

Matrix metalloproteinase
TIMP:

Tissue inhibitor of matrix metalloproteinase
αSMA:

Alpha smooth muscle actin
NASH:

Non-alcoholic steatohepatitis
NAFLD:

Non-alcoholic fatty liver disease
LDH:

Lobular dissecting hepatitis
CLC:

Cholangiolocellular carcinoma.
Declarations
Acknowledgements
The authors would like to thank Sarah Opitz for editing the manuscript. HS Kruitwagen and BA Schotanus receive funding from ZonMW for translational research on hepatic progenitor cells.
Authors' Affiliations
(1)
Department of Clinical Sciences of Companion Animals, Faculty of Veterinary Medicine, Utrecht University, Utrecht, The Netherlands
Copyright
© Kruitwagen et al.; licensee BioMed Central Ltd. 2014
This article is published under license to BioMed Central Ltd. This is an Open Access article distributed under the terms of the Creative Commons Attribution License (http://creativecommons.org/licenses/by/2.0), which permits unrestricted use, distribution, and reproduction in any medium, provided the original work is properly credited.