Research article

Open Access
Botanical ethnoveterinary therapies used by agro-pastoralists of Fafan zone, Eastern Ethiopia
BMC Veterinary Research
BMC series – open, inclusive and trusted
2017
13:232
Received: 6 February 2017
Accepted: 25 July 2017
Published: 9 August 2017
Abstract
Background
In Ethiopia, plant based remedies are still the most important and sometimes the only source of therapeutics in the management of livestock diseases. However, documentation of this indigenous knowledge of therapeutic system still remains at a minimum level. The aim of this study was, thus, to document the traditional knowledge of botanical ethnoveterinary therapies in the agro-pastoral communities of Fafan Zone, Eastern Ethiopia.
Methods
The study employed a cross-sectional participatory survey. Purposive sampling technique was applied to select key respondents with desired knowledge in traditional animal health care system. Data were gathered from a total of 24 (22 males and 2 females) ethnoveterinary practitioners and herbalists using an in-depth-interview complemented with group discussion and field observation.
Results
The current ethnobotanical survey indicated that botanical ethnoveterinary therapies are the mainstay of livestock health care system in the studied communities. A total of 49 medicinal plants belonging to 21 families, which are used by traditional healers and livestock raisers for the treatment of 29 types of livestock ailments/health problems, were identified in the study area. The major plant parts used were leaves (43%) followed by roots (35%). In most cases, traditional plant remedies were prepared by pounding the remedial plant part and mixing it with water at room temperature.
Conclusion
The various types of identified medicinal plants and their application in ethnoveternary practice of Fafan zone agro pastoralists indicate the depth of indigenous knowledge in ethnobotanical therapy. The identified medicinal plants could be potentially useful for future phytochemical and pharmacological studies.
Keywords
EthnoveterinaryMedicinal plantsLivestock diseasesFafan zoneAgro-pastoralist
Background
Livestock production is an integral part of the Ethiopian agricultural sector that approximately shares 40% of the national agricultural output [1]. Previously, it was reported that Ethiopia has the largest livestock population in Africa [2]. However, due to the prevailing animal diseases, the economic benefits gained from this sector still remain marginal. Animal diseases are among the principal causes of poor livestock performance and cause of high economic losses in the country [3, 4].
Conventional veterinary service is still less developed in the country, which is characterized by lack of adequate animal health infrastructure, veterinary clinics, and veterinarians. Furthermore, most modern drugs are expensive and not affordable to the majority of Ethiopian farmers and pastoralists [5, 6]. The majority of livestock raisers in Ethiopia are far away from the sites of animal clinic stations [7]. These factors make Ethiopian livestock raisers rely on endogenous ethnoveterinary knowledge and practices (mainly botanical products) for the management of diseases of their domestic animals. The traditional remedies are socially acceptable, inexpensive and locally available [8, 9].
However, very little of the ethnoveterinary knowledge of Ethiopian famers and pastoralists in relation to the use of medicinal plants is so far properly documented and analyzed [5, 6, 10]. It is estimated that up to 90% of current livestock diseases are managed through the use of traditional medicines [11]. WHO stated: the use of natural products in control of animal and human diseases are considerably effective [12].
In most scenarios, the traditional medical knowledge in Ethiopia is passed verbally from generation to generation. In addition, valuable information can be lost whenever a traditional medical practitioner passes without conveying his/her knowledge on traditional medicinal plants. Similarly, ethnoveterinary practice in the country is being affected by acculturation and depletion of plants as a result of population pressure, drought, environmental degradation, deforestation and over exploitation of the medicinal plants [13, 14]. Consequently, there is a pressing need to document medicinal plants used and the associated indigenous knowledge by conducting ethnobotanical studies [15, 16].
Compared to the multiethnic cultural diversity and the diverse flora of Ethiopia, the studies conducted on the traditional ethnoveterinary medicinal plants in Ethiopia are very limited [17]. In recent years, few ethnoveterniary surveys have been conducted in different areas of the country [10, 17–28]. As it is factual throughout the country, in Ethiopian Somali Regional State (ESRS), ethnoveterinary knowledge is believed to be rich and worth documenting. However, there is gap of information on the level, scope, role and limitations of plant based remedies in the traditional animal healthcare system. Thus, this ethnobotanical survey was initiated in view of documenting the indigenous knowledge associated with utilization of botanical ethnoveterinary therapies for the management of livestock ailments among the agro-pastoralist communities of Fafan Zone, Eastern Ethiopia.
Methods
Study area
The study area covers the Babile district and part of Jigjiga district, found in Fafan zone of ESRS (Fig.
1
). The zone is situated in the northern part of ESRS. The total land coverage of the zone is 40, 861 km
2
, of which the rangeland extends over 36, 629 km
2
. About 52.6%, 31% and 7% of the landscape of the zone can be categorized as flat to gentle slopes, hills and steep slope, respectively. Fafan zone comprises pastoralism, agro-pastoralism and sedentary production systems. Agropastoralism (95%) is the dominant production system in the zone [
29
].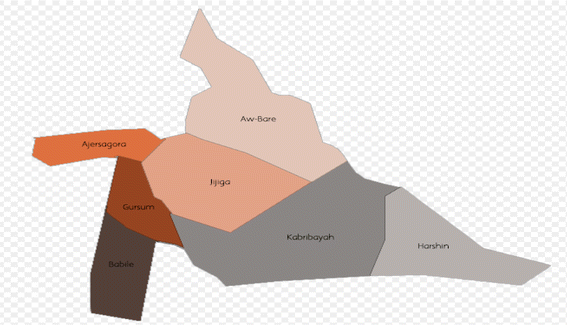 The zone geographically lies between 8° 44′ N to 11° 00′ N latitude and 40° 22′ E to 44° 00′ E longitude. The altitude of the zone ranges from 500 to 1650 m above sea level. The mean minimum and maximum temperature ranges from 16 to 20 °C and 28–38 °C, respectively [30]. The rainfall distribution in the zone is very erratic with a mean annual rainfall of 600 to 700 mm [31].
Study design
A cross-sectional, participatory study was employed to collect ethnoveterinary information from traditional healers in Fafan zone of ESRS between April, 2014 and August, 2015. Indigenous ethno-botanical knowledge, resources and their applications were the main study parameters.
Sampling procedure
A purposive snowball sampling technique was used to select study participants i.e. ethnopractitioners. This approach aids in acquiring the desired quality and quantity of information on traditional animal health care systems [32]. Ultimately, a total sample of 24 (22 males and 2 female) key respondents were selected.
Ethnobotanical data collection
Ethnobotanical data were mainly gathered through repeated field trips and investigations, with individual interviews, group discussion, and field observations using the same format used by [33] and [34]. Participant interviews were conducted using semi-structured questionnaires prepared in English and administered in local language (Somali) with the help of competent local translators. Data collected comprise: indications, local name, parts used in traditional remedies, mode of preparation (dosage), and route of administration of each medicinal plant against livestock diseases. Moreover, manner of indigenous knowledge transfer was recorded.
Plant specimen collection and identification
Ensuing interviews with selected key respondents, a field trip was arranged to identify and collect specimen of reported indigenous medicinal plants from their natural vegetation for further botanical identification. Botanical identification of plant specimens was conducted using herbarium materials and taxonomic keys described in various volumes on the Flora of Ethiopia [35, 36]. For each plant species, voucher specimens were given a collection number and deposited in the National Herbarium, Addis Ababa University.
Enumeration of documented plants
A list of plants and plant products traditionally used to manage animal health problems in the agro-pastoralist communities of Fafan zone was documented. The documentation compiled their scientific and vernacular names, family names, disease and ill-health conditions treated, target type of livestock and the preparation forms of different remedies (Table 2). The names of plants were arranged according to their alphabetical order.
Data analysis
Microsoft Excel spreadsheet software was employed for organizing and analyzing the collected ethnobotanical data. Descriptive statistical methods (percentage and frequency) were used to summarize data on reported medicinal plants and associated indigenous knowledge.
Conclusions
The study suggests that the agro-pastoralist communities of the study area largely depend on ethnoveterinary medicinal plants for the treatment of different animal ailments. In total, 49 medicinal plants were reported to have been used by the ethnoveterinary practitioners and livestock raisers. Leaf followed by root was the most frequently used plant part in the preparation of ethnobotanical remedies. The identified medicinal plants could be potentially useful for future phytochemical and pharmacological studies. Thus, further studies on biological activity, phytoconstituents and safety profile of the reported medicinal plants is warranted.
Abbreviation
ESRS:

Ethiopian Somali Regional State
Declarations
Acknowledgments
The authors would like to thank the Directorate of Research, Publication and Technology Transfer- Jigjiga University for funding this research. The authors also highly acknowledge the contribution made by local administration and the study participants.
Funding
This study was financially supported by Jigjiga University.
Availability of data and materials
The datasets used and/or analyzed during the current study and voucher number of the medicinal plants are available from the corresponding author on reasonable request.
Authors' contributions
TF conceived, designed and coordinated the study including the process of earning fund. EM and BUW participated in data collection, analysis and drafting the manuscript. SA finalized and submitted the manuscript for publication. All the authors revised and approved the final manuscript.
Ethics approval and consent to participate
Ethical approval was obtained from the Research Ethics Committee of the Directorate of Research, Publication and Technology Transfer, Jigjiga University, Ethiopia. Only respondents who consented to participate in the survey were asked to share their knowledge and experience on the use of medicinal plants in their communities to manage animal diseases.
Consent for publication
Not applicable.
Competing interests
The authors declare that they have no competing interests.
Publisher's Note
Springer Nature remains neutral with regard to jurisdictional claims in published maps and institutional affiliations.
Open AccessThis article is distributed under the terms of the Creative Commons Attribution 4.0 International License (http://creativecommons.org/licenses/by/4.0/), which permits unrestricted use, distribution, and reproduction in any medium, provided you give appropriate credit to the original author(s) and the source, provide a link to the Creative Commons license, and indicate if changes were made. The Creative Commons Public Domain Dedication waiver (http://creativecommons.org/publicdomain/zero/1.0/) applies to the data made available in this article, unless otherwise stated.
Authors' Affiliations
(1)
Department of Veterinary Clinical Studies, College of Veterinary Medicine, Jigjiga University, Jigjiga, Ethiopia
(2)
Department of Basic Sciences, College of Medicine and Health Sciences, Jigjiga University, Jigjiga, Ethiopia
(3)
Department of Pharmacology and Clinical Pharmacy, School of Pharmacy, Addis Ababa University, Addis Ababa, Ethiopia