Research article

Open Access
Glucocorticosteroids and ciclosporin do not significantly impact canine cutaneous microbiota
BMC Veterinary Research
BMC series – open, inclusive and trusted
2018
14:51
Received: 23 March 2017
Accepted: 14 February 2018
Published: 23 February 2018
Abstract
Background
As prednisone and ciclosporin can have immunosuppressive effects and have been considered potential predisposing factors for skin infections, we investigated the impact of these drugs on the diversity of the cutaneous microbiota, the abundance of Malassezia and infection with Papillomaviruses.
Results
Six atopic, asymptomatic Maltese-beagle dogs were treated with ciclosporin for one month and then with prednisone for another month, with a one-month wash-out between treatments. The dogs were sampled on the abdomen and pinna before and after each treatment using a swab. Samples for Papillomavirus detection were obtained with cytobrush sticks. The bacterial microbiota was characterized using 16S amplicon high-throughput sequencing. Malassezia populations were quantified with nested real-time PCR targeting the ribosomal internal transcribed spacer 1. The diversity and composition of cutaneous microbiota was not impacted in a detectable manner by any of the treatments. As observed for the bacterial microbiota, Malassezia populations were not affected by treatment. Three dogs were positive for Papillomavirus at more than one timepoint, but an association with treatment was not apparent.
Conclusions
Ciclosporin and prednisone at doses used for the treatment of atopic dermatitis do not impact the canine cutaneous microbiota in a detectable manner.
Keywords
Prednisone
Ciclosporin
16S amplicon sequencing
Microbiota
Malassezia
Papillomavirus
Principal coordinates analysis
Background
Cutaneous infections are very prevalent in atopic dogs; in most cases, they are caused by microorganisms that are considered normal inhabitants of the canine skin, such as Staphylococcus pseudintermedius or Malassezia pachydermatis [1]. The mechanisms that trigger the proliferation of a commensal cutaneous organism and leads to a bona fide infection are poorly understood. As skin infections are thought to worsen the clinical manifestations of atopic dermatitis, understanding the mechanisms underlying their development is of high interest.
Both glucocorticoids and ciclosporin are extensively used to treat atopic dermatitis in dogs. These drugs are recommended as first line therapies in the recently updated guidelines for the management of this disease [2]. As both drugs, depending on their dose, can have immunosuppressive effects, some authors have suggested that their prolonged use could favor the development of skin infections. For instance, treatment with glucocorticoids is considered to predispose to the development of superficial pyoderma in dogs, and relapsing urinary tract infections are recognized as a common side effect of glucocorticoid treatment in this species [1, 3, 4].
There is less evidence for ciclosporin predisposing to skin infections, but an increased rate of urinary tract infections in atopic dogs treated with this drug has been reported [5]. Finally, the development of viral papillomas in dogs has been mentioned in different studies as one on the side effects of ciclosporin therapy, probably due to an alteration of in the immune mechanism controlling viral replication [6, 7].
One way to assess if ciclosporin and glucocorticoids predispose to the development of skin infections is to analyze the impact of such treatments on the skin microbiota using high-throughput sequencing. These techniques enable the evaluation of the relative abundance of cutaneous bacteria and diversity of the skin microbiota [8, 9]. In this approach, changes in the microbiome could be used as proxy to assess the risk for cutaneous infections. In support of this assertion, skin infections were recently shown to be preceded by a diminished bacterial microbiota diversity in human and canine atopic patients [10, 11].
To examine the impact of ciclosporin and prednisone on the canine skin microbiota, we designed a longitudinal study with dosages used to treat canine allergic skin diseases. We found that these treatments have no discernable impact on the diversity of canine bacterial microbiota nor on Malassezia or Papillomavirus populations of the skin.
Results
Analysis of bacterial microbiota
Impact of treatments
We used PCoA of pairwise weighted Unifrac distance matrices to display differences in 16S rRNA sequence profile in different dog skin swabs. Figure
1
shows three versions of the same PCoA of 89 samples. The plots are colored according to date of collection (A), dog (B) and body site (C). There is no visible indication that ciclosporin or prednisone treatment, initiated at timepoint T1 and T3, respectively, affected the skin bacterial microbiota (panel A). Statistical analysis of weighted Unifrac distances between samples collected at the six timepoints confirmed this interpretation (Table
1
). T1 and T2 samples, and T3 and T4 samples were not significantly different (
p
= 0.262 and
p
= 0.345, respectively). Only two comparisons, T0 versus T2 and T0 versus T5 were significantly different. Since these timepoints do not bracket the treatments, we suspected a temporal effect unrelated to treatment and concluded that the tested interventions had not discernable effect on microbiota.
Table 1
ANOSIM R values and statistical significance of pairwise weighted Unifrac distance between microbiota collected at six timepoints
| Comparisona | R | p |
| --- | --- | --- |
|  T0-T1 | 0.26 | 0.023 |
|  T0-T2 | 0.54 | 0.001b |
|  T0-T3 | 0.08 | 0.217 |
|  T0-T4 | 0.25 | 0.039 |
|  T0-T5 | 0.25 | 0.001b |
|  T1-T2 | 0.06 | 0.262c |
|  T1-T3 | −0.04 | 0.624 |
|  T1-T4 | −0.04 | 0.579 |
|  T1-T5 | 0 | 0.375 |
|  T2-T3 | 0.15 | 0.138 |
|  T2-T4 | −0.06 | 0.726 |
|  T2-T5 | 0.01 | 0.417 |
|  T3-T4 | 0.01 | 0.345c |
|  T3-T5 | 0.12 | 0.094 |
|  T4-T5 | −0.05 | 0.694 |
To investigate another possible effect of the tested drugs, we estimated the α-diversity of the bacterial populations in swabbed samples using the Shannon [
28
] and Berger-Parker diversity index [
29
]. Altogether, the skin bacterial diversity was not signifcantly impacted by ciclosporin and prednisone treatment (Fig.
2
).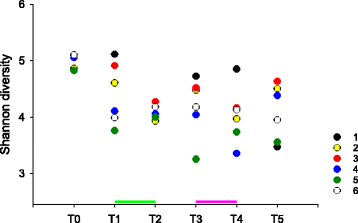 Shannon diversity indices ranged in value between 3.4 and 5.1 regardless of treatment. We used Kruskal-Wallis one-way ANOVA on ranks to test whether microbiota diversity collected on the various dates differed. The test returned a significant P-value (P = 0.02). As for ANOSIM described above, comparisons between sampling dates were not significantly different when comparing samples collected immediately before and immediately after each treatment. Similarly, the analogous analysis based on Berger-Parker α-diversity showed no significant difference between pre- and post-treatment samples. In contrast to the analysis of Shannon diversity, no overall difference between sampling dates was found using one-way ANOVA (F5,30 = 2.205, p = 0.08). Together, Unifrac distances and diversity values indicate that neither ciclosporin nor prednisone had a detectable impact on the skin bacterial microbiota.
The phylum-level classification of 85 swab samples is shown in Fig.
3
. Consistent with PCoAs, neither ciclosporin nor prednisone induced any apparent change in microbiota taxonomy. A lower-level taxonomic classification shows the same lack of treatment effect (Additional files
2
and
3
). Figure
3
shows a temporal trend of increasing relative abundance of Firmicutes over time. A linear regression of relative Firmicutes abundance over time was highly significant (F
1,23
= 20.8,
P
< 0.001), but this trend appears to be unrelated to the tested interventions.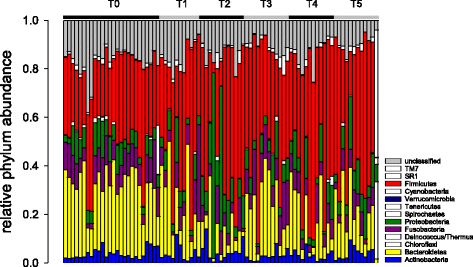 Diversity of skin microbiota between dogs and anatomical location
We analyzed 16S sequences to explore whether skin microbiota differed by dogs. Since all animals where subjected to the same treatment, this analysis is not central to the topic investigated here, but is relevant to understanding the evolution of skin microbiota and the extent to which co-housed animals may harbor different microbiota. Clustering by dog was found to be statistically significant (ANOSIM, n = 6, R = 0.25, P < 0.0001). Variation Partitioning Analysis was used to further evaluate the relative contribution of two independent variables, dog and time, on the microbiome profile. The results of this analysis show that variable "dog" explains 27.5% of the explained variation, which is 10 times more than the variation explained by variable "time" (2.6%). This outcome is consistent with the PCoA and ANOSIM results described above and in Additional file 4 in showing that time of sample collection had a relatively small impact on the skin microbiome.
When the samples from six dogs were separated by anatomical site, clustering of skin microbiota by dog became apparent by PCoA (Additional file 4) and was statistically significant when all dogs were compared (abdomen, n = 6, ANOSIM R = 0.40, P < 0.0001; pinna n = 6 ANOSIM R = 0.24, P < 0.001). After Bonferroni correction, 8/15 pairwise comparisons of abdomen microbiota were significantly different. For the pinna, only two out of 15 pairwise comparisons between dogs were significantly different (Additional file 5). α and β diversity was analyzed in relation to body site and to compare intra-dog vs inter-dog diversity. Based on Shannon diversity, samples collected from the abdomen and from the pinna were equally diverse (n = 93, t test P = 0.079). In contrast, samples collected from the same dog, whether from the pinna or the abdomen, were less different from each other than samples from different dogs (Kruskal-Wallis ANOVA on ranks, P < 0.001). This analysis indicates that in spite of the animals being housed together, the skin microbiota populating different animals tends to diverge, and that each dog is populated by a distinct bacterial microbiota.
Quantification of Malassezia and association with bacterial diversity
A nested real-time PCR assay was used to quantify Malassezia DNA in the same swab samples as used for 16S rRNA sequencing. Malassezia carriage varied among dogs. At time T0, before initiation of treatment, some dogs had high Malassezia loads (i.e., dog 5) (Additional file 6). In contrast, other dogs showed very low loads (dogs 3, 6). Despite this trend, high inter-sample variability was observed among samples from a same dog. The density of Malassezia was higher on the pinnae than on the abdomen (Mann-Whitney Rank sum test, U = 2016, n = 72, P = 0.021). Malassezia populations significantly varied in the course of the experiment (ANOVA on Ranks, n = 24/group, H = 20.1, 5 d.f., P < 0.001). However, such variation did not appear to be a result of treatment (Additional file 6). Neither of the two pairwise comparisons between Ct values from samples taken immediately before and after the treatment were significantly different (Tukey's test).
We analyzed Malassezia PCR Ct values and 16S rRNA diversity for an association between Malassezia infestation and bacterial diversity. For this analysis, we used both Shannon and Berger-Parker diversity indices. Bacterial diversity and Malassezia relative abundance were not significantly correlated (Additional file 7). Although none of the regressions were statistically significant, we observed a slight yet non-significant increase in bacterial diversity with increasing Malassezia Ct (decreasing Malassezia relative abundance) for the abdominal samples and an opposite trend for those collected on the pinnae.
Detection of Papillomavirus DNA
The results of PCR to detect
Papillomavirus
DNA in the skin samples are summarized in Table
2
; these results are in agreement with those from previous studies that had demonstrated that
Papillomavirus
DNA is detectable on the skin of healthy dogs. Dogs 2 and 4 were positive once and dog 3 was positive on two consecutive sampling points. As observed for the bacterial microbiota and
Malassezia
infestation, the results did not correlate with the treatments administered.
Table 2
Results of Papillomavirus PCR
Dog number and sampling site

Timepoint

T0

T1

T2

T3

T4

T5

1 Pinna

–

–

–

–

–

–

1 Abdomen

–

–

–

–

–

–

2 Pinna

–

–

–

–

+

–

2 Abdomen

–

–

–

–

–

–

3 Pinna

–

+

+

–

–

–

3 Abdomen

–

–

–

–

–

–

4 Pinna

–

–

–

–

–

–

4 Abdomen

–

–

–

+

–

–

5 Pinna

–

–

–

–

–

–

5 Abdomen

–

–

–

–

–

–

6 Pinna

–

–

–

–

–

–

6 Abdomen

–

–

–

–

–

–
Discussion
The cutaneous microbiota of six atopic dogs was analyzed at six timepoints over a 7-months period. This study is unique because of its comprehensive examination of microbiota, including bacteria, Malassezia and Papillomavirus. To our knowledge, this is the first study that investigated the impact of non-antimicrobial treatments on the canine cutaneous microbiome. The major limitation of this study is the small number of dogs investigated. However, as we found no apparent trend when pre- and post-treatment samples were compared, it is unlikely that a study with more animals would lead to a different conclusion.
Our original hypothesis was that ciclosporin or glucocorticoids would reduce bacterial diversity, facilitating overgrowth of pathogens and the development of overt skin infections. Our results show that the treatment with ciclosporin at 5 mg/kg/q 24 h or with prednisone at 0.75 mg/kg/q 24 h does not impact the profile or the diversity of the cutaneous bacterial microbiome of the dog. Therefore, it is unlikely that treatment itself directly increases the risk of secondary bacterial infections commonly observed in atopic dogs. The specific trigger(s) of Staphylococcus pseudintermedius proliferation ending in pyoderma in an atopic dog remain unclear, but the leading hypothesis is that abnormalities in the skin barrier or immunologic changes linked to atopic dermatitis [30] lead to a reduction in bacterial diversity and facilitate bacterial infections, as reported in humans [10] and more recently in dogs [11]. In this study, we did not challenge dogs with the allergen to which they are sensitized, because the main objective was to assess the impact of the treatment - and not allergic inflammation - on the bacterial microbiota, on Malassezia and on Papillomavirus infection. The assessment of the bacterial microbiome after an allergen challenge in this acute canine atopic dermatitis model has been reported previously [31].
The detection and relative quantification of Malassezia DNA was successful using the PCR primers reported by Makimura et al. [27] which are specific for Malassezia pachydermatis. A nested PCR protocol was used to increase the sensitivity of this test. None of the two treatments had an impact on the relative abundance of Malassezia yeast and thus we concluded that ciclosporin and prednisolone do not affect cutaneous Malassezia populations under the conditions tested. The outbreaks of M. pachydermatis frequently observed in atopic dogs probably should be better attributed to changes in the cutaneous ecosystem caused by the atopic disease rather than to treatment itself. Previous studies have reported that in human atopic patients different Malassezia species are present on the skin, which is typically not the case in healthy individuals [32, 33]. Importantly, in this study, we only investigated the most common and clinically important Malassezia species in the dog (M. pachydermatis) and therefore cannot draw conclusions on the diversity of the entire Malassezia population, as reported in atopic humans [34]. A recent study based on high-throughput sequence data of the ribosomal internal transcribed spacer I analyzed the fungal population of the skin in healthy and atopic dogs [35]. This study found that the relative abundance of Malassezia was not impacted by the dog's health status. This observation and our study are however difficult to compare. While Meason-Smith et al. used high-throughput sequencing to infer relative abundance, we quantified Malassezia using real-time PCR. In contrast to the earlier study, our experiments were not designed to assess differences in skin microbial populations between atopic and healthy animals.
As for the analysis of bacterial microbiota and Malassezia, we found that the treatments did not increase the presence of detectable Papillomavirus in the skin. As expected, papillomavirus DNA was detected in some dogs at different points of the study (Table 2), but all dogs were negative for this group of commensals at the end of the study.
Conclusions
Ciclosporin and prednisone, used at typical dosages prescribed for the treatment of atopic dermatitis for one month did not impact the canine cutaneous microbiota in a detectable manner. The data suggest that these treatments are unlikely to increase the risk of secondary microbial infections commonly observed in atopic dogs. Whether a longer treatment would change the skin microbiota remains undetermined but deserving of further study.
Abbreviations
ANOVA:

Analysis of Variance
nt:

nucleotide
OTU:

Operational Taxonomic Unit
PCoA:

Principal Coordinates Analysis
rRNA:

ribosomal RNA
SD:

standard deviation
Declarations
Acknowledgments
The authors gratefully acknowledge Elanco for funding the study, and Albert Tai and the Tufts Genomics staff for sequencing.
Funding
Elanco reviewed and approved the study protocol, and funded the study; it had no part in the execution of the study, data analysis or writing of the manuscript.
Availability of data and materials
FASTQ files were deposited in the European Nucleotide Archive under accession number PRJEB15158.
Authors' contributions
LF and TO designed the experiment and obtained the funding. JSP contributed to the design and performed the in vivo study. GW supervised the bench work and analyzed the 16S sequence data. KH processed the samples, prepared the 16S amplicon libraries and performed the Malassezia PCR analyses. CF performed the Papillomavirus analysis and analyzed the data. GW and LF wrote the manuscript, which was reviewed and revised by the other authors. All authors read and approved the final revision.
Ethics approval
The Institutional Animal Care and Use Committee of North Carolina State University approved this study.
Consent for publication
Not applicable
Competing interests
TO declares having received consulting honoraria and previous research support from Elanco or one of its founding companies (Novartis Animal Health).
Publisher's Note
Springer Nature remains neutral with regard to jurisdictional claims in published maps and institutional affiliations.
Open AccessThis article is distributed under the terms of the Creative Commons Attribution 4.0 International License (http://creativecommons.org/licenses/by/4.0/), which permits unrestricted use, distribution, and reproduction in any medium, provided you give appropriate credit to the original author(s) and the source, provide a link to the Creative Commons license, and indicate if changes were made. The Creative Commons Public Domain Dedication waiver (http://creativecommons.org/publicdomain/zero/1.0/) applies to the data made available in this article, unless otherwise stated.
Authors' Affiliations
(1)
Department of Infectious Diseases and Global Health, Cummings School of Veterinary Medicine at Tufts University, North Grafton, USA
(2)
Department of Clinical Sciences, Cummings School of Veterinary Medicine at Tufts University, North Grafton, USA
(3)
Clinic for Small Animal Internal Medicine, Vetsuisse Faculty, University of Zürich, Zürich, Switzerland
(4)
Department of Clinical Sciences, College of Veterinary Medicine, North Carolina State University, Raleigh, USA