Erratum to: Evaluation of chemical castration with calcium chloride versus surgical castration in donkeys: testosterone as an endpoint marker
BMC Veterinary Research
BMC series – open, inclusive and trusted
2016
12:61
Received: 10 March 2016
Accepted: 10 March 2016
Published: 23 March 2016
Unfortunately, after publication of this article [
1
] it was noticed that an incorrect version of Fig. 8 (Fig.
1
here) was introduced during the production process. The correct figure can be seen below. The original article has also been updated to reflect this.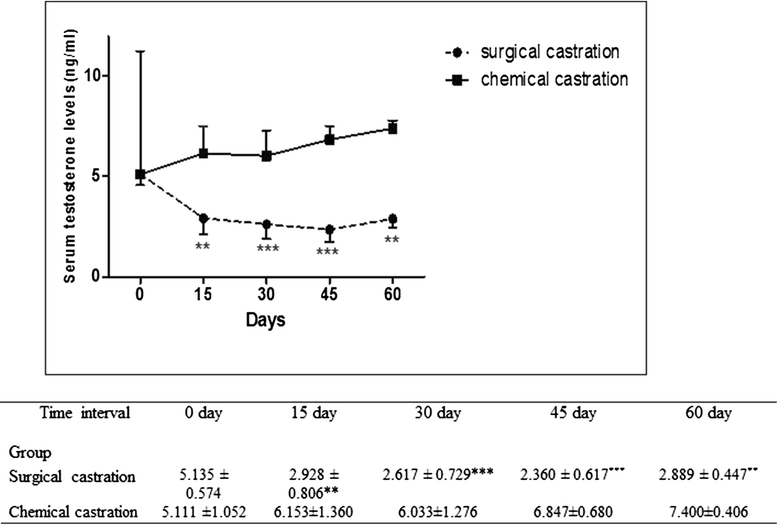 Open AccessThis article is distributed under the terms of the Creative Commons Attribution 4.0 International License (http://creativecommons.org/licenses/by/4.0/), which permits unrestricted use, distribution, and reproduction in any medium, provided you give appropriate credit to the original author(s) and the source, provide a link to the Creative Commons license, and indicate if changes were made. The Creative Commons Public Domain Dedication waiver (http://creativecommons.org/publicdomain/zero/1.0/) applies to the data made available in this article, unless otherwise stated.
(1)
Department of Surgery, Anesthesiology and Radiology, Faculty of veterinary medicine, Assuit University, Assuit, 70155, Egypt
(2)
Department of Medical physiology, Faculty of medicine, Assuit University, Assuit, Egypt
(3)
Department of Pathology and clinical pathology, Faculty of veterinary medicine, Assuit University, Assuit, Egypt
Ibrahim A, Ali M, Abou-Khalil N, Al M. Evalutation of chemical castration with calcium chloride versus surgical castration in donkeys: testosterone as an endpoint marker. BMC Veterinary Research. 2016;12:46.View ArticlePubMedPubMed CentralGoogle Scholar